There's a story that Benjamin Franklin proposed that the turkey, not the bald eagle, become America's national bird, citing several more admirable behavioral traits. Fun fact: that cry movies use for a bald eagle? Red-tailed hawk.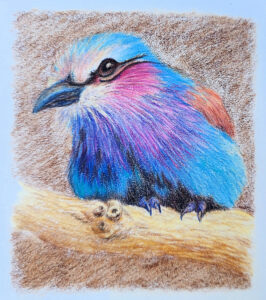 This project for Val Webb's Birds in Colored Pencil course introduced me to either the prettiest national bird or a cunning little baby muppet from Jim Henson's Labyrinth that escaped before its scene was shot. It also introduced me to some new techniques, which is why I'm taking the course. I'm going to be a bit sad when I'm done with it. I finished this one during an afternoon relaxing at a campsite in the redwoods, watching dark-eyed juncos, western blue jays, and robins go about their business. A chipmunk literally ran under my chair during the final detail work. Yes, while I was in it.
I have a hard time imagining sitting anywhere but an aviary or an animated movie and watching these little rainbow puffs fly about and interact. The idea goes very Pixar/Disney very quickly in my head. Friends tell me that lorikeets are as common in Australia as squirrels are in the U.S. and that they make a very colorful ruckus in the mornings, but still… the lilac-breasted roller takes too many colors to seem real to this midwestern-raised gal. Yep, Kenya sure knows how to pick 'em!